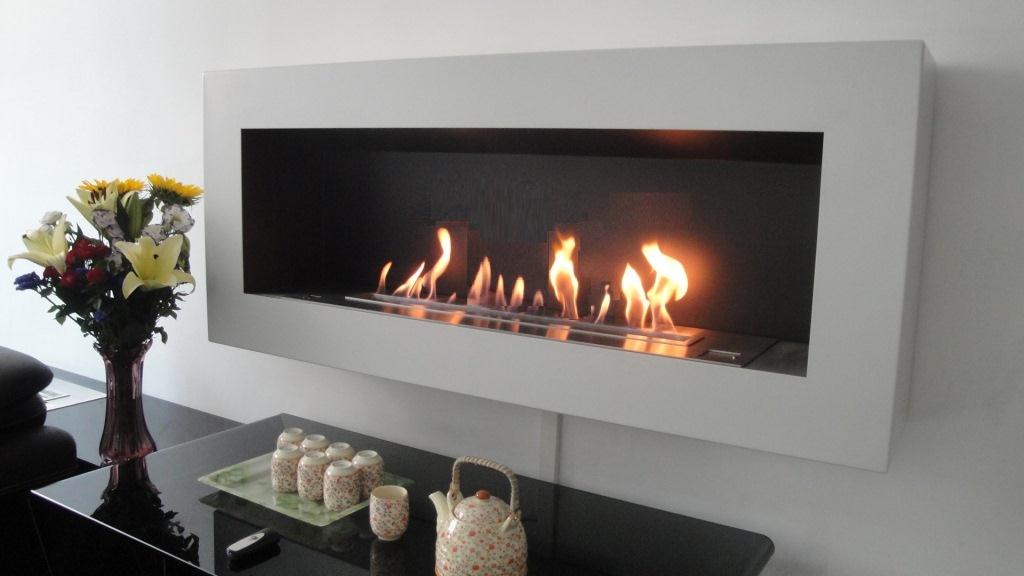 Ethanol Fireplaces AFIRE: Electronic Hearths & Bio Fires with Remote Control
" Simplicity is the ultimate sophistication " Leonardo da Vinci
AFIRE is a reference in terms of comfort and simplicity. No effort has been spared to facilitate the simple use of your ethanol fireplace. No works of installation and no maintenance. These high-end hearths and bio fires were conceived with the aim of providing you with a constraint-free flame.
Whether houses, apartments or commercial premises, these electronic ethanol fireplaces with remote control can be installed anywhere, in the city or in the countryside. With a bioethanol hearth, enjoy the pleasure of the fire in complete safety. All the devices are fitted with electronic sensors to automatically stop the burner in the event of abnormal functioning.
Running on bio-alcohol, an eco-friendly and renewable energy, these fire spaces do not produce smoke or smell. AFIRE Bio-fireplaces is the simplest way of appreciating a real fire.
Simply press the remote control button and ignition is automatic.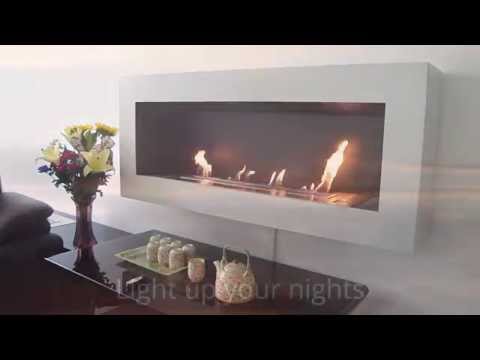 The magic of the Fire
"Close your eyes, make a wish
And blow out the candlelight
For tonight is just your night
We're gonna celebrate all through the night
Pour the wine, light the fire…"
EDMONDS, KENNETH
Technical data of the range:

– Remote control, on/off button on the top plate and "dry contact" for home automation.
– Automatic ignition commanded by electrodes.
– Safety detectors that stop the device in the event of malfunction (C0², heat, gauges, accelerometer, level detector, etc.)
– Alcohol pump inspired by the medical sector (over 35,000 hours of operation).
– Standard CE approved.




1. Beaubourg BE100: Large "trendy" 16/9 hearth

A perfect 16/9 design that contains a long burner, Beaubourg is one of the "trendiest" piece in our range. The spirit of fire transports us and allows us to discover combinations of dancing flames…  Beaubourg BE100 is endowed with the BL66 bio burner.

– Dimensions: 96 / 57,6 / 27,3 cm    (37,80 / 22,68 / 10,75 in)
– Output: 3 750 W                          (13 000 BTU)
– Capacity of the tank: 4L               (1,06 Gal)
– Consumption: 0,6 liter/hour           (0,16 Gal/hour)
– Weight: 42 kg                              (92 Lbs.)

Technical data sheet: Beaubourg BE100 remote controlled ethanol fireplace

2. Beaubourg BE150: extra-large design fireplace

A contemporary revival in fire spaces with the arrival of the large width flames. In the conception of designers, the fire is harmonised with our vision. A large room is needed to install this bio contemporary fire. This ecological hearth will bring a touch of life to your lounge or to your living space. Beaubourg BE150 is endowed with the BL100 bioethanol fireplace burner

– Dimensions: 146 / 61,4 / 27,3 cm   (57,20 / 24,20 / 10,75 in)
– Output: 6 200 W                           (21 000 BTU)
– Capacity of the tank: 5L                (1,32 Gal)
– Consumption: 1 liter/hour              (0,25 Gal/hour)
– Weight: 62 kg                               (138 Lbs.)

Technical data sheet: Beaubourg BE150 remote controlled ethanol fireplace

3. Bastille: compact ethanol fireplace

Compact, distinguished, the Bastille is easily fitted, even if you only have a reduced space. Ideal for apartments, urban residences or rooms of average dimensions, bio hearth Bastille is suitable for any type of space. Bastille is endowed with the BL40 bio fire insert

– Dimensions: 76 / 76 / 27,3 cm       (29,92 / 29,92 / 10,75 inches)
– Output: 2 700 W                           (9 000 BTU)
– Capacity of the tank: 2,25L            (0,60 Gal)
– Consumption: 0,4  liter/hour           (0,11 Gal/hour)
– Weight: 42 kg                                (92 Lbs.)

Technical data sheet: Bastille remote controlled bio ethanol fireplace

4. Concorde: a 360° vision of flames

A maximum view of the fire and its flames which are reflected in its heart of brushed stainless steel. Concorde is a large arch which takes pride of place in your living space. An eco-friendly hearth running on bioalcohol. Concorde is endowed with the bio fire insert BL66.

– Dimensions: 119 / 99 / 45 cm       (46,85 / 38,98 / 17,72 inches)
– Output: 3 750 W                          (13 000 BTU)
– Capacity of the tank: 4 L              (0,6 Gal)
– Consumption: 0,4  liter / hour        (0,16 Gal / hour)
– Weight: 50 kg                              (110 Lbs.)

Technical data sheet: Concorde remote controlled electronic bio ethanol fireplace

5. BEG59: remote controlled fireplace burner for existing hearths

If using your existing hearth every day is too demanding, you can now slide a remote controlled burner into your hearth. The device, which produces real flames, will pleasantly replace a log fire. Your existing fireplace becomes versatile where it can be used for a traditional fire but also more so on a daily basis by inserting the bioethanol burner.

– Dimensions: 59 / 31 / 15 cm        (23,22 / 12,20 / 5,90 inches)
– Output: 2 700 W                         (9 000 BTU)
– Capacity of the tank: 2,25 L         (0,6 Gal)
– Consumption: 0,4  liter / hour       (0,11 Gal / hour)
– Weight: 10,5 kg                          (23 Lbs.)

Technical data sheet: BEG59 remote controlled ethanol burner for fireplace




Further information about:  
How to install your design ethanol fireplace
Create your own stylish fireplace
Install your personalized design fireplace with a remote controlled ethanol burner insert
FAQ: 
Answers to frequently-asked questions about AFIRE's bio ethanol fireplaces