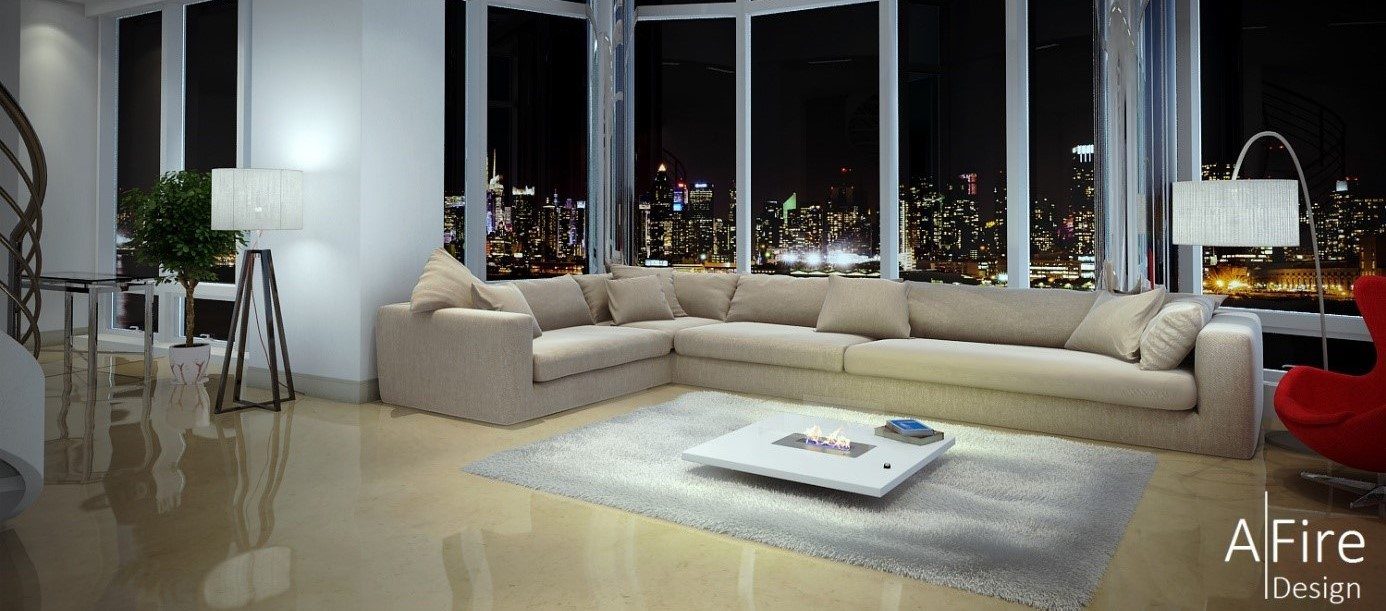 Design Coffee Table Fireplace with Remote Control
LOU Collection
The conviviality of a coffee table with the magic of an automatic bio fire
Coffee table fireplace LOU: along with the sofa, the coffee table is the crucial element in your living room. AFIRE has designed a collection of coffee tables with integrated ethanol burners that adapts to your deco style through its forms, its materials, its finishes, and its colors. No ducts, no smoke, no constraints, where Bio-Tech and dreams meet, coffee table fireplace with integrated bioethanol burner is modern and design, decorative and ingenious. Just press the remote to start the fire!
The coffee table and the fireplace are natural spots for conviviality. The LOU tabletop fireplace range brings a touch of warmth and dynamism to your interior. Here, we are then talking about actual decoration. The LOU coffee tabletop fireplace is a real deco creation, it sets the tone and creates the atmosphere of your living space It gives you the opportunity to enjoy a coffee or a cocktail with your family and friends around the fire.
LOU coffee table fireplace, a plate of flames that floats in your interior… To create a fire of dreams and of thoughts…
Mankind dreaming at his fireplace becomes imaginative.
The fireplace gives him a future, a consciousness, a spark of heavenly blaze.
Gaston Bachelard
Coffee table fireplace with Integrated Automatic Bio Ethanol Burner:
Models, colours, dimensions and technical data
1. Tabletop Fireplaces Models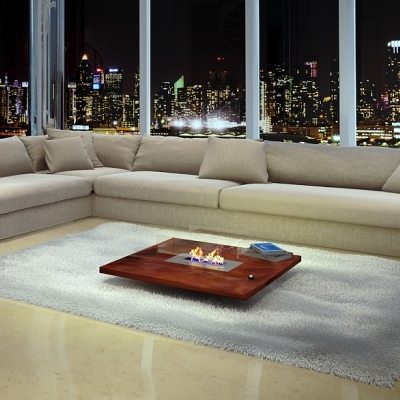 Square Coffee Table Fireplace
Rectangular Coffee Table Fireplace
2. Tabletop Fireplace LOU – Colors
Corten
The "Corten" effect is created by a succession of paint layers applied by hand with special effects.
"That is, each time, neither quite the same, nor quite another."
Natural Solid Wood
The natural warmth and beauty of a clear solid veined wood, treated with the most modern techniques, emphasizes the visual and tactile qualities of wood. The meeting of technology and nature.
4. General Technical Data – Coffee Table Fireplace LOU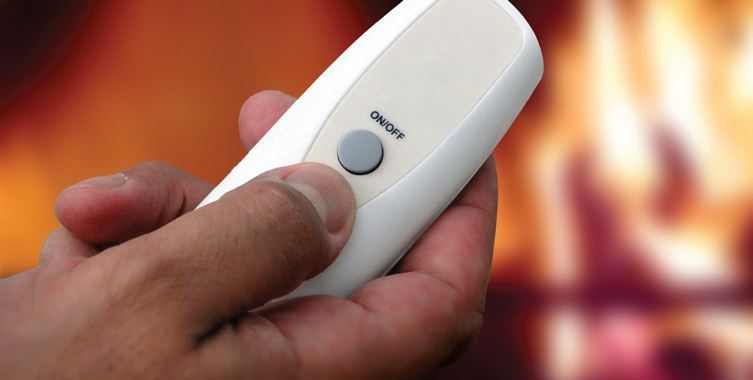 Controls
Remote control
On/off button
Dry contact for home automation applications and remote control via Smartphone or remote commands
Ignition - Power
Automatic and secured ignition through low-voltage electronic induction electrodes Feed pumps with high-tech membranes developed by the medical field
Security
Electronic sensors that automatically halt the unit in case of malfunction (CO², heat, levels, tank gauge, accelerometer, etc.)
Standards
All AFIRE devices comply with the following safety standards:
CE (Europe),
FCC (USA),
IC (Canada)
Clear and detailed offer within 24 hours